Helping you find joy in Christ
Speaking Individually and duo  for retreats, conferences and other ministry events.
Love Your Neighbor Episode 6: Love Yourself
We are excited to launch our newest topic: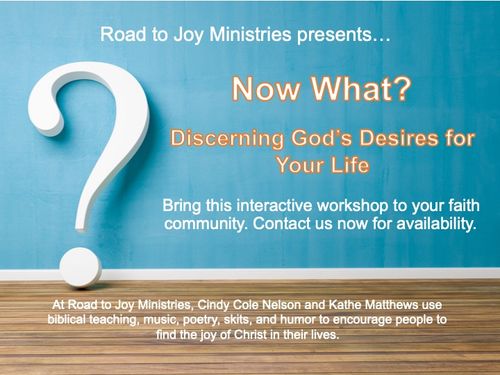 See "Topics and Testimonials" for additional choices

Testimonials :
"Uplifting and straight-forward in message and presented in a way that touched each attendee individually. Their mix of readings, songs, skits and poetry kept everyone engaged. Kathe and Cindy were very professional while being approachable and relatable. Highly recommended!
Sarah Green, Osseo UMC Women's Retreat Coordinator
 
"Kathe and Cindy are gifted speakers who share from the heart the lessons they have learned as they have walked with God. Their use of drama, music, and video keep their audience engaged. Our women are still talking about how the retreat has touched their lives.
Pastor Meg, First Presbyterian, Maple Plain
 
"I go to retreats to be fed and they fed me a banquet!"
Gail Mueller, Prairie Lutheran, Retreat Attendee
 
Click on the brief video below to see clips of some of our past presentations.