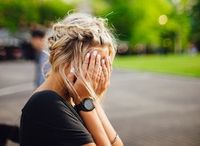 Have you ever looked in the mirror and gasped when you saw something unattractive hanging from your nose? I had been meeting with a group of women and we had been sharing deeply with each other. If it was there the whole time, they would have been viewing it dangling while staying silent about its presence. As I squirmed with the embarrassment at the thought, I had to take a step back and think about our conversation. It had been rich and Holy Spirit inspired, despite something offensive in my appearance. 
Laughing at myself, I thanked God for keeping me humble in His work and I thanked Him for being so much bigger than a moment of grossness. If we are willing, God will use us despite what is going on in our lives or our appearances. May we all freely give ourselves to the work of the Spirit and pray that nothing distracts from His purpose, not even something dangling from our nose. 
  
Gracious God, thank you for allowing me to participate in your work, despite my faults. Please keep me humble in your service so that I will not distract from your purposes.  May your Spirit be seen through my actions and words and not through my appearance. In Jesus' name I pray.  Amen.