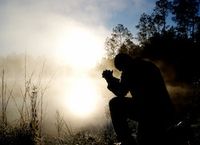 We thank you, O God! We give thanks because you are near. People everywhere tell of your wonderful deeds. Psalm 75:1 
Are you feeling alone during these mandated "shelter-in-place" rules? In these days of social distancing, it can become difficult to not feel isolated, lonely and fearful; we were made for interaction with each other! Fortunately, we can turn to God for comfort and strength because He has promised to always be near. During these times of human physical apartness, remember that God NEVER social distances Himself from us.  
Draw near to Him by praying and searching the Bible for His goodness and trustworthiness.  Make this a daily practice! Then, turn on some praise music and dance around your house in worship of our wonderful God.  May you feel comforted by His nearness today. 
Ever-present Father, thank You for Your nearness. I am struggling in this world of uncertainty and social distancing. Could You help me to feel Your presence today? Show me how to draw near to You so that I can tell people everywhere of Your wonderful deeds.  In Jesus' name. Amen.